Riverworld / Television / Characters / Samuel Clemens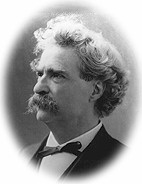 Samuel Clemens
Played by Cameron Daddo.

historical character / appeared in novels

Biography:
- grew up in Hannibal, Missouri
- worked as a printer, silver miner, soldier in Confederate army and riverboat pilot before writing full time
- late in life, his works became markedly bitter and pessimistic, no doubt a result of the deaths of his wife and two daughters
- unfinished work, "The Mysterious Stranger"


Novel Biography:
- co-founded the city of Parolando with King John Lackland after aiding in the assassination of his former partner, Erik Bloodaxe
- built a massive steel riverboat, the Not For Hire, which was subsequently stolen by King John.
- built a second riverboat, better than the first, and chased Lackland all the way to the mouth of the River, at Virolando
- searched for his wife for decades, only to find her in love with the historical Cyrano De Bergerac
- visited by Ethical rebel, Loga, who guided him to massive iron deposits (an incredibly rare material on the River). Clemens referred to him as "The Mysterious Stranger"